Pennsylvania
'We don't feel safe': US community in shock after record methane leak | Gas
It was an ordinary autumn afternoon pottering around the back yard for Doug Harrison when an engine-like roar suddenly drowned out the sound of the leaf blower.
"It sounded like two jets were directly above my house," said Harrison, 50, a former steelworker from Jackson Township, a rural community in Pennsylvania. "I swear to God I thought this is it, those jets are going to crash into my property."
Residents for miles around exchanged frantic messages while scouring flight radar and emergency service scanner apps for clues, as the township's volunteer firefighters sped past, sirens blazing.
But this was no terrorist attack or aviation calamity. The deafening noise and the foul smell of rotten eggs that followed was a massive methane leak at a nearby gas storage facility, an unfolding climate catastrophe captured by satellites in space.
Over the next few weeks, more than a billion cubic feet of methane and other toxins were spewed into the atmosphere from a failed storage well at an ageing fossil-fuel facility operated by Equitrans Midstream Corporation on Rager Mountain.
This sleepy community, surrounded by rolling hills and forests, was the scene of the biggest gas leak in Pennsylvania's history – and one of the worst ever detected in the US.
Methane is a potent greenhouse gas that warms the Earth's atmosphere much faster than CO2, and today is responsible for about 25% of the heat trapped by all greenhouse gases. The oil and gas sector is the largest industrial source of methane, an invisible gas that can also cause a myriad of medical complications, fires and even engine failure leading helicopters to fall out of the sky.
According to some calculations, the Jackson Township leak was equivalent to planet-warming emissions from burning more than 1,080 rail cars of coal or from running 360,000 cars for a year. The incident triggered a bomb scare at one school after a student overheard a bus driver talking about the risk of explosions.
The relentless racket and stench caused people to suffer severe headaches, lightheadedness, sore throat, burning nose, nausea and sleep deprivation as the company struggled to plug the leak. Harrison's wife, Tammy, 49, missed several days of work. For some residents – already fed up with the proliferation of fossil fuel pipelines and power plants – this was the final straw. "I have to get out," said Beth Shoff, 52, a college professor.
The Pennsylvania climate disaster was among more than 1,000 super-emitter incidents in 2022 revealed by the Guardian's investigation into global methane leaks. Satellites captured 154 mega-leaks in the US, with Turkmenistan, Russia, Algeria, China, Saudi Arabia, Australia, Iran and Iraq among the world's other worst emitters.
"These leaks represent the tip of the iceberg of methane emissions, the super-emitters, for which there is no justification – these could be radically reduced at little or no net cost," said Steve Hamburg, chief scientist at the Environmental Defence Fund.
The Rager Mountain leak was huge. The estimated flow rate on 7 November, the day after the leak sprung, was 120 tonnes of methane an hour, according to satellite data analysed by the company Kayrros. By this measure, it was only the second largest onshore leak in the US last year, surpassed by one near San Antonio, Texas in March which discharged 147 tonnes of methane an hour.
After two weeks, the company announced the leak had finally been plugged. But according to Harrison, the jet-like noise continued on and off for several more weeks. The state regulator, the department of environmental protection (DEP), which was initially denied access to the site, has cited the company for multiple maintenance violations since the leak, though it did not find cause for concern during routine inspections last June and October. State and federal investigations are continuing.
"Right from the start the company tried to underplay the magnitude but we don't feel safe in our own home any more, they've taken away our sense of security. They promised us restitution but that's not happened. I would like some truthful answers," said Harrison.
The truth about this leak is part of a bigger story about the oil and gas industry in Pennsylvania – and across the country – that is unlikely to help anyone sleep easier at night, according to David Hess, former head of the DEP.
"We have major gas infrastructure built out all over the place but don't have the powers or resources to regulate everything that's going on; this is the wild west. It was just a matter of time before something like the huge Rager Mountain leak happened, and it's just a matter of time before the next big one," said Hess.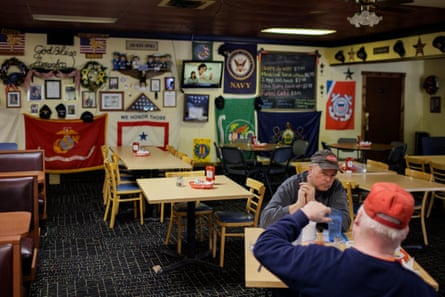 Jackson Township is a majority-white Republican-leaning community with just more than 4,000 habitants in Cambria county, a former coal and steel heartland in western Pennsylvania which promotes itself as the state's energy county. Pipelines, power plants and wells – active and abandoned – are scattered throughout the community, and local people are proud of the region's industrial heritage.
After years of decline in coal and conventional oil and gas drilling, the state has been at the heart of the US fracking boom thanks to the mineral and gas-rich sedimentary rock formation known as the Marcellus Shale – 26m hectares (65m acres) that stretches across the Appalachian Basin from upstate New York to western Virginia.
Separate data obtained by the Guardian's methane investigation revealed more than 50 "methane bombs" – fossil-fuel extraction sites where gas leaks alone from future production would release levels of methane equivalent to 30 years of all US greenhouse gas emissions.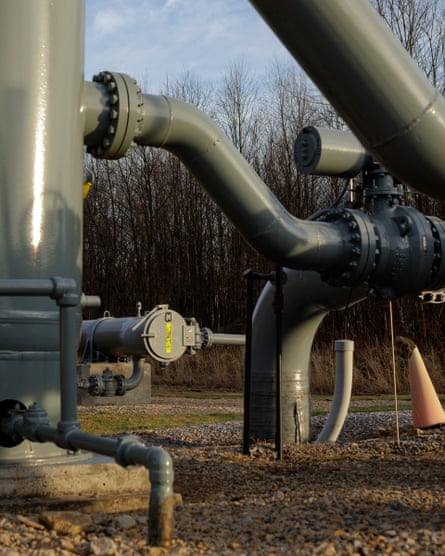 The Marcellus Shale is the world's second-biggest methane bomb. Its estimated future emissions from methane leakage alone – without taking into account use of the extracted gas – is equivalent to 17bn tonnes (Gt) of CO2, more than triple the US's current total annual emissions. Four of the top 10 methane bombs are in the US.
Fracking has led to a proliferation of new and repurposed fossil-fuel infrastructure to extract, process, transport and store previously unreachable shale gas – infrastructure which can, and frequently does, leak methane and other toxins into the air, land and water. Old and poorly maintained infrastructure is prone to leaks, but most methane is discharged during normal operations at every stage from extraction to transmission and is systematically undetected and underreported.
More than 1.5 million Pennsylvanians now live within half a mile of active oil and gas facilities and the fracking boom has been linked to a rise in asthma attacks and lyme disease. Last year, a grand jury investigation found that Pennsylvania failed to protect people during the fracking boom because state public health and environmental laws were too weak.
It has become too much for Beth Shoff and her older sister Amy Boring, who grew up in these mountains and whose family has fought – and lost – battles to stop strip mining, highway expansion and the fracking expansion.
Shoff lives at the end of a secluded country lane where the scandal-ridden Mariner East 2 pipeline now runs between the house and horse's stable, through the wetland on the edge of the property. Across the valley, towering plumes of smoke rise up from the new gas power plant, which lights up the sky at night and blocks the once-panoramic view. The family's well water was contaminated during the pipeline construction, instilling a sense of anxiety and impotence for Shoff, which was then reinforced by the Rager Mountain leak.
"We're on the path to self-combustion, but still there is so much ambivalence about climate change. Big business always wins," said Shoff, who began evacuating her animals during the recent leak after an emergency plan she has formulated in case of a gas disaster. (A no-flight zone was implemented, but there were no evacuations or injuries.)
"It's so infuriating but we as individuals lack the finance resources to counteract billion-dollar corporations," added Boring, 54, who tracks safety mishaps – fires, outages, leaks – at nearby facilities.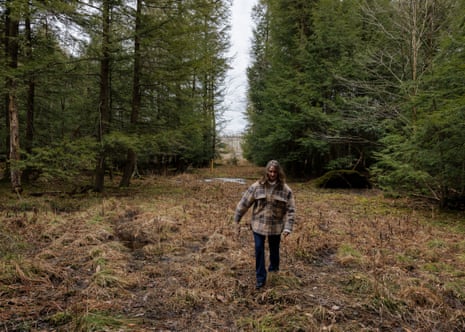 Four miles as the crow flies from Boring's house, the Rager Mountain facility is at the end of a dirt road on a depleted gas field where fracked gas is stored in a dozen converted underground conventional wells for the peak winter months.
The failed well dates back to 1965. The vast majority of Pennsylvania's wells were constructed decades ago, many in the early 1900s, when there were fewer regulations and more primitive technology, according to analysis by FracTracker.
"It's scary because there are thousands of other wells like these, and while we have science and technology, we don't have the political will for action," said Erica Jackson from FracTracker.
Overstretched state regulators have been warning about the dangers of underground storage fields like the one on Rager Mountain since 2019. The DEP's oil and gas programme, which has reported a 25% staffing deficit, must regulate more than 104,000 active wells and an estimated 200,000 abandoned wells, as well as processing and power plants. The workload rises every year as hundreds of new wells are authorised while those no longer producing enough fuel to make money are abandoned.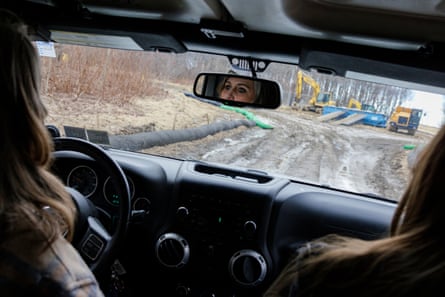 Drillers are required to plug deserted wells with cement to prevent methane leaking into the atmosphere and toxic chemicals from leaking into the air or soil, which on average costs $75,000 (£62,000) a well. In many cases it is cheaper for oil and gas operators to break the rules and face the music – if they get caught, according to Hess.
A recent DEP review of compliance with state environmental laws found a "culture of non-compliance as an acceptable norm in the conventional oil and gas industry … particularly with regard to improper abandonment of wells".
In early February, when the Guardian visited Jackson Township, the DEP caught 12 oil and gas drillers trying to abandon wells without plugging them in just one week.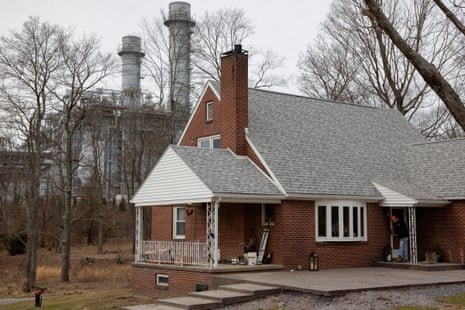 Most leaks are small and go unnoticed even as they pollute the air and water. Yet at the local diner, even the catastrophe leak on Rager Mountain just a few miles away is no longer a topic of conversation. "It was worrisome to think about all that gas going into the atmosphere, but overall the Marcellus Shale is a good thing for jobs and I'd rather see natural gas than coal," said William Thomas, 53, owner of Kimmie's Kitchen.
Equitrans did not respond to specific questions about mitigation, compensation and compliance with DEP orders, but in a statement said the company "immediately began working with a contracted specialty well services company to safely and efficiently address the situation".
There were no injuries, no mandatory evacuations and no immediate public safety concerns, and the company notified the relevant agencies, it said. "A comprehensive root cause investigation is currently under way and is being conducted by an independent, third-party vendor with expertise … Equitrans is coordinating with respective state and federal agencies regarding a full environmental assessment of the facility and surrounding area."
In 2019, Equitrans – also a major investor in the controversial Mountain Valley pipeline through Virginia and West Virginia backed by fossil-fuel friendly Democratic senator Joe Manchin – entered into a settlement agreement for $650,000 with the DEP for failing to submit compliance reports at another storage facility.
For years, fossil-fuel friendly lawmakers have blocked efforts to tighten state rules and penalties governing oil and gas operations, and continue pushing for further deregulation. But more sophisticated methane detection technology and regulation is coming: the Biden administration is working on tougher federal standards and penalties for all emitters, with new money to plug orphaned wells and greater powers for non-government entities to force super-emitters to take timely action.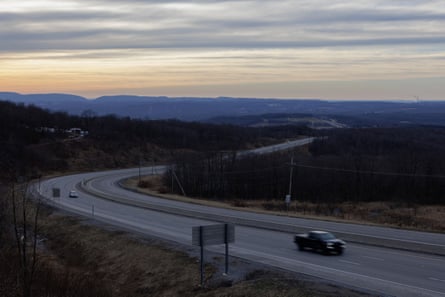 Leaky infrastructure drives up gas prices and threatens to derail hard-fought climate wins. According to Bloomberg, the single Jackson Township leak effectively erased the emissions gains from about half the 650,000 electric vehicles sold in the US last year.
"What happened in Jackson Township is a clear example of why we need more rules for oil and gas companies, as they are not going to do the right thing unless made to," said Kim Anderson, a local activist with the Evangelical Environmental Network, who made a video about the leak. "It's so scary to me that all that pollution is still out there."
https://www.theguardian.com/environment/2023/mar/06/us-methane-gas-leak-fracking-jackson-township-pennsylvania 'We don't feel safe': US community in shock after record methane leak | Gas