Pennsylvania
Officials provide update on hunt for escaped Chester Co. prisoner – NBC10 Philadelphia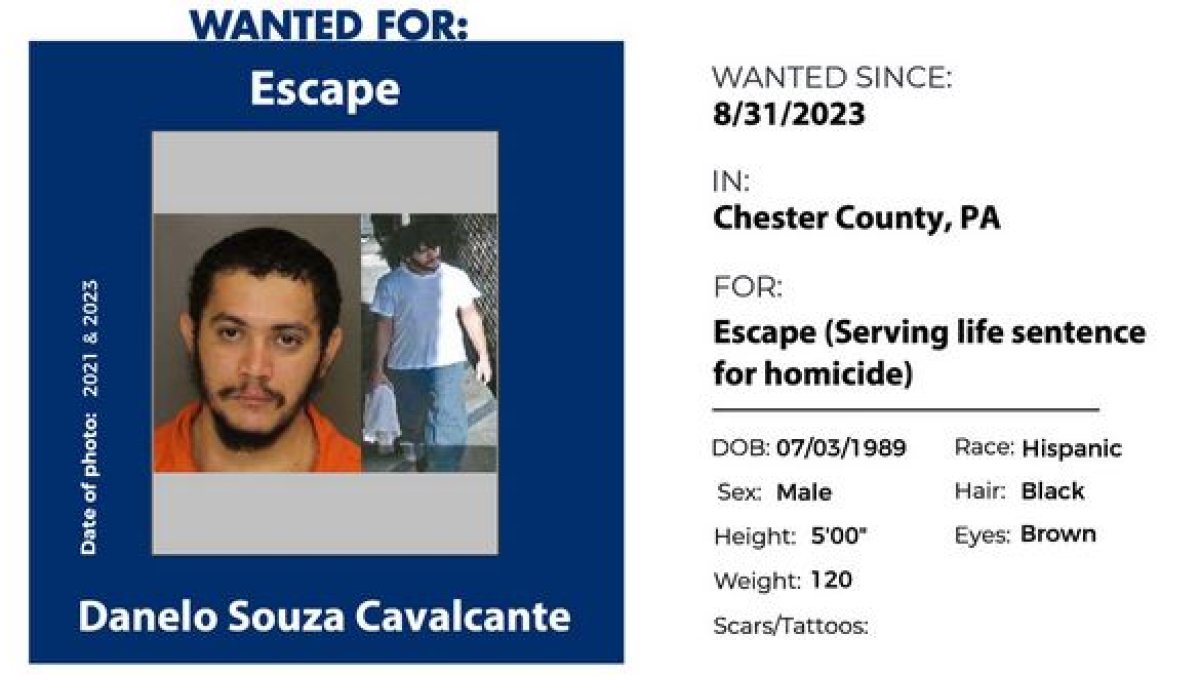 Representatives with Chester County law enforcement, Pennsylvania State Police and the U.S. Marshals Service are said that they are stepping up the search for the convicted killer continues on Monday.
Authorities are now on the fifth day of a search for escaped prisoner, 34-year-old Danelo Cavalcante.
One step that law enforcement will be taking, is, that those who live in Pocopson Township may hear recordings in Portuguese being played from police vehicle loudspeakers or from a helicopter.
It's a recording of Cavalcante's mother begging him to turn himself in peacefully, law enforcement officials said.
Also, George Bivens, Pennsylvania State Police deputy commissioner of operations said that lethal force could be used order to end this manhunt.
"If he is not actively surrendering, lethal force is authorized," said Bivens.
Officials said Monday that, since his initial escape from the County Prison in Pocopson Township on Thursday morning, there have been four sightings of Cavalcante.
Also, Cavalcante was caught on a residential surveillance camera on Sept. 2 around 12:30 a.m. on the 1800 block of Lenape Road in Pocopson Township, just 1.5 miles from the prison.
He was wearing pants, a light-colored t-shirt, and white sneakers and his appearance has remained unchanged, according to the Chester County District Attorney's office.
Police released the surveillance footage of Cavalcante, he can be seen walking through a wooded area.
Police also reported an attempted burglary at 11:30 p.m., Friday on the 100 block of Ballintree Lane in Pocopson Township, but have not said if this reported incident was related.
News of his escape came out later on Thursday and by the afternoon both state police and U.S. Marshals had joined in the search for the convicted killer.
The search included railroads, the Brandywine Creek and other possible routes out of Chester County, Chester County DA Deb Ryan said.
Cavalcante is a Brazilian man who fluently speaks Portuguese and Spanish and some English and stands around 5 feet tall and weighs around 120 pounds, officials said.
"This is a very, very, very dangerous man," Clark said while urging people "not to approach Cavalcante."
Ryan and other officials said they believed Cavalcante was acting alone and is likely still hiding in the general area.
"We have reason to believe that he is heading south and we will find him no matter what it takes," Ryan said. She noted that he was captured after the initial 2021 killing — for which he was recently convicted — in Virginia and at the time he was believed to be headed for Mexico and ultimately Brazil.
How did Cavalcante escape prison?
Authorities didn't immediately reveal how Cavalcante — who is also wanted in a killing in Brazil — got out.
Authorities on Friday said they continued to investigate how Cavalcante escaped the maximum security portion of the prison. They did, however, reveal that it didn't appear that Cavalcante had help in his escape.
He was first reported missing around 8:50 a.m. Thursday, the Chester County District Attorney's Office said.
He was last seen near Wawaset Road, Ryan said Thursday.
"Danelo Cavalcante is considered an extremely dangerous man," Ryan said. "We are asking for the public's help in locating him. He was last seen walking on Wawaset Road in Pocopson Township around 9:40 a.m. The defendant is also wanted for a 2017 murder in Brazil."
On Friday, Ryan revealed that Thursday morning sighting was by a prison employee just down the road from the facility.
Ryan said she didn't know the specific time frame for when the prison noticed Cavalcante was missing.
Acting prison warden Howard Holland refused to reveal details about the escape during a Thursday afternoon news conference. He did, however, say that protocols immediately went into effect and the prison was locked down once they learned of the escape.
As soon as the prison learned of the escape they began to take measures to report the escape, Ryan said Friday, while noting that her office is looking into the possibility that reverse 911 calls weren't received by everyone in the area.
According to court records, he was convicted of first-degree murder earlier this month of stabbing and killing his ex-girlfriend Deborah Brandao in front her her children in April 2021. He was sentenced to life in prison without the chance for parole just last week.
As a murder convict, Cavalcante was set to be transferred to a state facility in the days ahead.
Ryan said it's normal protocol in Chester County for someone convicted of murder or other serious crimes to remain in the county jail for up to 30 days to allow them time to file a post-sentence motion. "There was no evidence that he was considered a flight risk," Ryan said.
Cavalcante's legal team had just filed a post-sentence motion seeking a new sentence or new trial on Friday, Ryan said.
Photos released by the DA's office and U.S. Marshals show what Cavalcante looks like.
A $10,000 reward for Danelo Cavalcante's capture
An attorney who represented Cavalcante in his murder trial has yet to return a request for comment from NBC10.
Authorities said that people should begin seeing Cavalcante's photo show up on social media and on highway billboards in the area.
A $10,000 reward ($5,000 from each of the county commissioners and U.S. Marshals) is being offered "for any information that leads to the capture of Cavalcante," the DA's office said.
"Law enforcement is doing everything now to locate him," Ryan said. "If you see this individual do not approach him. Call 911 immediately."
By Friday morning, the DA's office added to the phone numbers tipsters could reach out to:
"If anyone knows or sees anything at all that they suspect may involve this man, please call 9-1-1 or the U.S. Marshal tipline at 1-877-WANTED2 (1-877-926-8332) immediately," the DA's office said.
Ryan had a message for Cavalcante.
"We are going to find you and we are going to prosecute you and we are going to keep you behind bars for the rest of your life," Ryan said.


https://www.nbcphiladelphia.com/news/local/live-officials-update-on-escaped-chester-co-prisoner-danelo-cavalcante/3637798/ Officials provide update on hunt for escaped Chester Co. prisoner – NBC10 Philadelphia