Pennsylvania
Escaped convict Danelo Cavalcante caught after intense manhunt | Pennsylvania
An escaped murderer who had been on the run in Pennsylvania for almost two weeks, leading law enforcement on an intense manhunt, was captured early on Wednesday, ending a chase that captivated America and terrorised a Philadelphia suburb.
Danelo Souza Cavalcante, 34, broke out of the Chester county prison on 31 August while awaiting transfer to state prison to serve a life sentence for fatally stabbing an ex-girlfriend in 2021.
He was taken into custody shortly after 8am on Wednesday when state police and federal border protection search teams surprised him lying with a stolen rifle inside a perimeter set up by authorities in rural South Coventry township, in Chester county.
At a morning press conference, law enforcement officials said Cavalcante was subdued by a police dog as he attempted to crawl away into woodland. He sustained a minor bite wound but his capture was otherwise without incident.
"Thank God there were no injuries to law enforcement or to the public," Josh Shapiro, the Democratic governor of Pennsylvania, told the press briefing.
"We obviously became deeply concerned after the suspect was able to steal a weapon. He was apprehended this morning with no shots fired."
Shapiro praised state and federal authorities who worked together to end what he said was "a concerning and trying time for each and every one of you in the region".
Video from a news helicopter showed Cavalcante led by heavily armed officers dressed in military-style uniforms to an armored police vehicle. One officer cut away a Philadelphia Eagles sweatshirt Cavalcante was wearing before he was placed in the vehicle in handcuffs and driven off.
The rifle stolen earlier this week was recovered, according to the footage, which showed one of dozens of officers at the scene carrying the gun.
Cavalcante was taken to a police station in Avondale for an interview and medical evaluation, Lt Col George Bivens of Pennsylvania state police said, adding that Cavalcante would then be transferred into the custody of the state department of corrections to resume his life sentence.
Bivens gave more details of Cavalcante's capture, including that authorities were able to close in on his location shortly after midnight following an alert from a residential burglar alarm. A surveillance aircraft found a "heat source" believed to be Cavalcante about an hour later, he said, but had to withdraw because of a lightning storm.
"Shortly after 8am, tactical teams converged on the area where the heat source was. They were able to move in very quietly. They had the element of surprise [and] Cavalcante did not realise he was surrounded," Bivens said.
"That did not stop him from trying to escape. He began to crawl through thick underbrush taking his rifle with him. The dog subdued him and team members immediately moved in. He continued to resist and was forcibly taken into custody.
"He looked tired … like somebody who had been out in the woods for an extended period of time. And stressed."
Bivens said persons they believed were trying to help Cavalcante, including a sister currently in deportation proceedings, had been prevented from contacting him. He declined to give further details.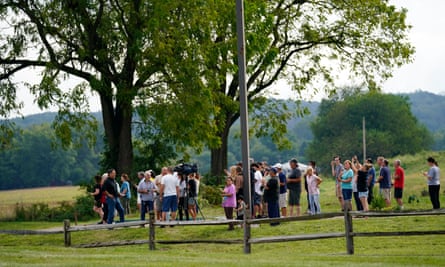 In his escape last month, Cavalcante scaled a wall by crab-walking up from the recreation yard, climbing over razor wire, running across a roof and jumping to the ground. His escape went undetected for more than an hour until guards took a head count. The tower guard on duty was fired.
Authorities described Cavalcante as extremely dangerous. A $25,000 reward was offered for information leading to his capture and hundreds of personnel from state and federal law enforcement agencies were deployed to track him down.
Sporadic sightings were reported across the search area north-west of Philadelphia. On Monday, Cavalcante entered a garage, stole a rifle and fled when the homeowner drew a pistol and shot at him. Police warned that Cavalcante was now armed and not to approach him, and asked the public to call 911 if they saw him.
Deb Ryan, district attorney of Chester county, told reporters on Wednesday the community "can now finally sleep again".
"Today is a great day here in Chester county. Our nightmare is finally over and the good guys won," she said.
"We had weather problems, we had terrain problems, and a ton of obstacles that prevented our capture from occurring as expediently as we wanted. [But] we had the best people in the business and we never lost faith that this capture would occur. We knew that it was just a matter of time."
Cavalcante was convicted last month of the first-degree murder of his former girlfriend, 33-year-old Deborah Brandao. Prosecutors say he killed her to stop her from telling police that he was wanted for murder in his home country, Brazil.
Prosecutors in Brazil's Tocantins state said Cavalcante was accused of "double qualified homicide" in the 2017 killing of Válter Júnior Moreira dos Reis in the municipality of Figueiropolis, over a debt the victim owed him for repairing a vehicle.
https://www.theguardian.com/us-news/2023/sep/13/danelo-cavalcante-captured-latest-news-pennsylvania-jail-escape Escaped convict Danelo Cavalcante caught after intense manhunt | Pennsylvania