Pennsylvania
Who's on your ballot for municipal races | News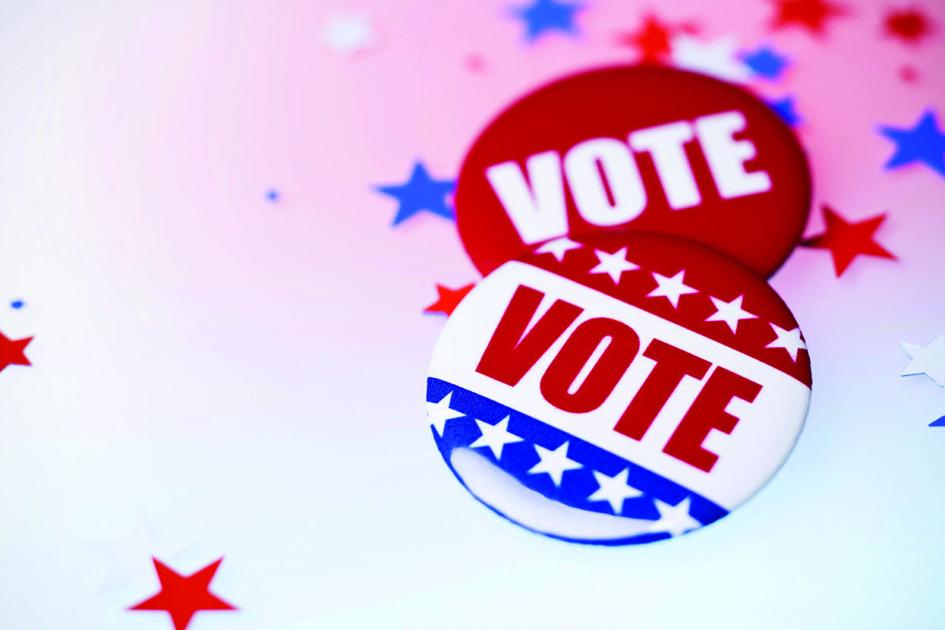 There are two ways to vote in Pennsylvania, by mail or in person.
If you have a mail-in ballot but have not yet sent it in, it must be postmarked by Election Day, Nov. 2.
Otherwise, polls are open that day from 7 a.m. to 8 p.m.
Here is a snapshot of who is up for election.
JUSTICE OF THE SUPREME COURT
Maria McLaughlin, D
Kevin Brobson, R
JUDGE OF THE SUPERIOR COURT
Timika Lane, D
Megan Sullivan, R
JUDGE OF THE COMMONWEALTH COURT
(Vote for 2)
Lori A. Dumas, D
David Lee Spurgeon, D
Stacy Marie Wallace, R
Drew Crompton, R
JUDGE OF THE COURT OF COMMON PLEAS
Patrick Dougherty, D
Gina Force, R
COUNTY CORONER
Jerry Overman, D/R
REGISTER OF WILLS, RECORDER OF DEEDS & CLERK OF ORPHANS' COURT
Marlene M. Connelly, D
Maria Jack, R
TREASURER
Kimberly McCullough, R
MAGISTERIAL DISTRICT JUDGE 40-3-02
Susanne V. Steffee, D/R
ARMAGH BOROUGH
No one on the ballot for auditor, mayor, member of council (3 for four-year term; 1 for two-year term), tax collector, judge of election and inspector of election (1 each party)
ARMSTRONG TOWNSHIP
• Auditor, six-year term
Linda Fleming, D
• Constable, six-year term
Frederick G. Yarnick, R
• Supervisor, six-year term
William G. Reeger, R
• Tax collector, four-year term
Chantelle Todd, R
• Judge of Election District 1, four-year term
• Judge of Election District 2, four-year term
Marcia Hartman, R
• Inspector of Election District 1, four-year term
• Inspector of Election District 2, four-year term (1 each party)
Terry Young, D
Denise Weiss, R
BANKS TOWNSHIP
• Auditor, six-year term
Carole Pierce, R
• Constable, six-year term
• Supervisor, six-year term
Terry Pierce, R
• Tax Collector, four-year term
Amanda Farmery, R
• Judge of Election, four-year term
Carole Pierce, R
• Inspector of Election, four-year term
Rose L. Temchulla, R
BLACKLICK TOWNSHIP
• Auditor, six-year term
• Constable, six-year term
• Supervisor, six-year term
Timothy N. Stewart, R
• Tax collector, four-year term
Sandra Kirkland, D
Tiffany Stewart, R
• Judge of Election, four-year term
• Inspector of Election, four-year term
BLAIRSVILLE BOROUGH
• Constable Ward 1, six-year term
• Constable Ward 2, six-year term
• Constable Ward 3, six-year term
• Mayor, four-year term
Ronald E. Evanko, D
• Member of Council Ward 1, four-year term
Kaitlyn Sagely, D
• Member of Council Ward 2, four-year term
Neila Diane Johnson, D
Robert Startari, R
• Member of Council Ward 3, four-year term
Jeff Marshall, D/R
• Tax collector, four-year term
Jonathan J. Santoro, D/R
• Judge of Election Ward 1, four-year term
Joan K. Reynolds, R
• Judge of Election Ward 2, four-year term
• Judge of Election Ward 3, four-year term
• Inspector of Election Ward 1, four-year term
• Inspector of Election Ward 2, four-year term
• Inspector of Election Ward 3, four-year term
BRUSH VALLEY TOWNSHIP
• Auditor, six-year term
• Constable, six-year term
Charles Westover, D
• Supervisor, six-year term
Richard Coffman, D
Cody Baroni, R
• Tax collector, four-year term
Gloria Mitchell, D/R
• Judge of Election
Noah Clevenger, R
• Inspector of Election
Connie Evans, R
BUFFINGTON TOWNSHIP
• Auditor, six-year term
• Constable, six-year term
• Supervisor, six-year term
• Tax collector, four-year term
Donald A. Davis, R
• Judge of Election District 1, four-year term
Barbara Bailey, D
• Judge of Election District 2, four-year term
Linda Bufagna, D
• Inspector of Election District 1, four-year term (1 each party)
Karen Mack, D
Jennifer E. Henry, R
• Inspector of Election District 2, four-year term
Terri L. Thomas, D
BURRELL TOWNSHIP
• Auditor, six-year term
• Constable, six-year term
• Supervisor, six-year term
Larry Henry, R
• Tax collector, four-year term
Brenda J. Pizer, D
Ganene R. Smith, R
• Judge of Election District 1, four-year term
Laura Hutcheson, R
• Judge of Election District 2, four-year term
Kathy Cornman, R
• Inspector of Election District 1, four-year term (1 each party)
Sueann Markel, D
Terry Semsick, R
• Inspector of Election District 2, four-year term (1 each party)
Robin L. Fisher, D
Dolores Donelson, R
CANOE TOWNSHIP
• Auditor, six-year term
Kimberly Holeva, D/R
• Auditor, four-year term
• Constable, six-year term
John A. Pisano Jr., D/R
• Supervisor, six-year term
Dwight A. Winebark, D
Thomas R. Baun, R
• Tax Collector, four-year term
Vicki Best, D/R
• Judge of Election, four-year term
Pearleen G. Spicher, R
• Inspector of Election, four-year term
Barbara J. Mack, D
CENTER TOWNSHIP
• Auditor, six-year term
John Tony Maggio, D
• Auditor, four-year term
James A. Cutshall, D/R
• Constable, six-year term
• Supervisor, six-year term
Dave Butch Smyers, D
Paul Colgan, R
• Tax collector, four-year term
Monica Lazor Jones, D/R
• Judge of Election District 1, four-year term
• Judge of Election District 2, four-year term
Patty Gaydosh, D
• Judge of Election District 3, four-year term
• Inspector of Election District 1, four-year term
• Inspector of Election District 2, four-year term
Eva R. Yancy, D
• Inspector of Election District 3, four-year term
Susan Kozele, D
CHERRYHILL TOWNSHIP
• Auditor, six-year term
Catherine G. Hildebrand, R
• Constable, six-year term
Russell Leap, D/R
• Supervisor, six-year term
Terry Stiffler, R
• Tax collector, four-year term
Karen L. Markel, D/R
• Judge of Election District 1, four-year term
Kathryn S. Porter, R
• Judge of Election District 2, four-year term
Cynthia L. Misko, R
• Inspector of Election District 1, four-year term
Ruth Ann Fulton, R
• Inspector of Election District 2, four-year term
CHERRY TREE BOROUGH
• Mayor, four-year term
• Constable, six-year term
• Member of Council, four-year term
Holly Srock, R
• Member of Council, two-year term
• Tax collector, four-year term
Arlan L. Kratz, R
• Judge of Election, four-year term
• Inspector of Election, four-year term
CLYMER BOROUGH
• Mayor, four-year term
Christina M. King, R
• Constable, six-year term
• Member of council, four-year term (vote for 4)
Louis Tate, D
Stephanie A. Brilhart, D
John A. Hughmanic, D
Jeffrey Gromley, D/R
• Member of Council, two-year term
Kirby Griffin, D
• Tax collector, four-year term
Daniel Berkey, D/R
• Judge of Election, four-year term
Daniel Berkey, R
• Inspector of Election, four-year term (1 each party)
Susan Myers Super, D
Sandra K. Heller, R
CONEMAUGH TOWNSHIP
• Auditor, six-year term
• Supervisor, six-year term
Donald C. Fink Sr., D/R
• Tax collector, four-year term
Scott Corbin, D/R
• Judge of Election District 1, four-year term
Margaret E. Karp, D
• Judge of Election District 2, four-year term
Toni Lee Cramer, R
• Judge of Election District 3, four-year term
Carol Elwood, R
• Inspector of Election District 1, four-year term (1 each party)
Sandra M. Becker, D
Carla J. Jones, R
• Inspector of Election District 2, four-year term
Hope D. Reid, R
• Inspector of Election District 3, four-year term
Esther Ciocca, D
CREEKSIDE BOROUGH
• Auditor, six-year term
• Constable, six-year term
• Mayor, four-year term
Robert Lee Rossiter Jr., R
• Member of Council, four-year term (vote for 3)
Robert C. Fairman, R
Joshua I. Anderson, R
Jessica McCunn, R
• Tax collector, four-year term
• Judge of Election, four-year term
Judy Groom, D
• Inspector of Election, four-year term
Gail Smith, D
ERNEST BOROUGH
• Constable, six-year term
• Mayor, four-year term
Sandra M. Waldenville, R
• Member of Council, four-year term
• Member of Council, two-year term
• Tax collector, four-year term
• Judge of Election, four-year term
• Inspector of Election, four-year term
GLENN CAMPBELL BOROUGH
• Mayor, four-year term
• Member of Council, four-year term
• Tax Collector, four-year term
Elizabeth Beth Smochek, D
• Judge of Election, four-year term
• Inspector of Election, four-year term
GRANT TOWNSHIP
• Auditor, six-year term
Sharon Stewart, D
• Auditor, two-year term
• Supervisor, four-year term
Jon Perry, D
Robert E. Sheesley, R
• Tax collector, four-year term
Rebecca J. Goss, R
• Judge of Election, four-year term
Darla J. Coble, R
• Inspector of Election, four-year term (1 each party)
Sharon Stewart, D
Tammy Denise Diamond, R
GREEN TOWNSHIP
• Auditor, six-year term
Lisa Syster, R
• Auditor, four-year term
Robin Sarnovsky, R
• Supervisor, six-year term
Allen L. Shirley, D
David Powell, R
• Tax collector, four-year term
Patty Ferringer Houck, D/R
• Judge of Election District 1, four-year term
Debra J. Bartlebaugh, R
• Judge of Election District 2, four-year term
• Judge of Election District 3, four-year term
Bonnie J. Pozzini James, D
• Inspector of Election District 1, four-year term (1 each party)
Hazel Helmick, D
John Hanayik, R
• Inspector of Election District 2, four-year term
• Inspector of Election District 3, four-year term
Patricia A. Bash, D
HOMER CITY BOROUGH
• Constable, six-year term
• Mayor, four-year term
Arlene Wanatosky, D
• Member of Council, four-year term (Vote for four)
Joseph S. Iezzi Sr., D
Christina Worcester, D
Matthew Black, D
• Member of Council, two-year term (vote for 2)
Jennifer Jaworski, D
Richard Jones, D
• Tax collector, four-year term
Thomas Brett Citeroni, D/R
• Judge of Election District 1, four-year term
Sheila Charnego, R
• Judge of Election District 2, four-year term
Kathleen A. McAnulty, R
• Inspector of Election District 1, four-year term
Margaret Susan Snyder, D
• Inspector of Election District 2, four-year term (1 each party)
Bonita Craft, D
Marie Day, R
INDIANA BOROUGH
• Constable Ward 1, six-year term
• Constable Ward 2, six-year term
Jesse Michael Webber, L
• Constable Ward 3, six-year term
Michael Mulgrew, D/R
• Constable Ward 4, six-year term
• Mayor, four-year term
Joseph Trimarchi, D
William B. Simmons, R
• Member of Council Ward 1, four-year term
Joshua Kratsa, D
• Member of Council Ward 2, four-year term (Vote for 2)
Gerald Smith, D
Donald Lancaster, D
Jesse Collier, R
Shavonne Arthurs, R
• Member of Council Ward 3, four-year term (Vote for 2)
Betsy Sarneso, D
Kaela A. Cardarella, D
Luke Debuyser, R
Don Hanni, R
• Member of Council Ward 4, four-year term
Sara Stewart, D
Tamara Collazzo, R
• Tax collector, four-year term
James P. Smith Jr., D
William C. Lundstrom II, R
• Judge of Election 1, four-year term (1 each party)
John Henry Steelman, D
Tammy L. Weaver, R
• Judge of Election 2/1, four-year term
• Judge of Election 2/2, four-year term
Ken Watkins, D
• Judge of Election 3/1, four-year term
• Judge of Election 3/2, four-year term
• Judge of Election 3/4, four-year term
Susan Deemer, R
• Judge of Election 4, four-year term
• Inspector of Election 1, four-year term
• Inspector of Election 2/1, four-year term
• Inspector of Election 2/2, four-year term (1 each party)
Sarah Watkins, D
Marie McCoy, R
• Inspector of Election 3/1, four-year term
• Inspector of Election 3/2, four-year term
• Inspector of Election 3/4, four-year term
Elaine Mulvihill, D
• Inspector of Election 4, four-year term
Karen B. Cass, R
EAST MAHONING TOWNSHIP
• Auditor, six-year term
Kimberly June Potts, R
• Supervisor, six-year term
Brian Fike, R
• Tax collector, four-year term
Debra J. Askew, D/R
• Judge of Election, four-year term
Paula Griffith, D
• Inspector of Election, four-year term (1 each party)
Marilyn Gleason, D
Karen Gromley, R
NORTH MAHONING TOWNSHIP
• Auditor, six-year term
Darla D. Travis, R
• Constable, six-year term
• Supervisor, six-year term
Dean A. Martin, R
• Tax collector, four-year term
Karen Jordan Blose, R
• Judge of Election, four-year term
• Inspector of Election, four-year term
Kathy A. Martin, R
SOUTH MAHONING TOWNSHIP
• Auditor, six-year term
Raymond Irwin, R
• Constable, six-year term
Terry L. Miller Sr., R
• Supervisor, six-year term
Bryan Pritchard, R
• Tax collector, four-year term
Elizabeth Hermann, D
Tyler Foose, R
• Judge of Election, four-year term
Celeste Irwin, R
• Inspector of Election, four-year term
Darla A. Smith, R
WEST MAHONING TOWNSHIP
• Auditor, six-year term
• Auditor, four-year term
• Constable, six-year term
• Supervisor, six-year term
Gerald W. Barrett, R
• Tax collector, four-year term
Alice Ferringer, D/R
• Judge of Election, four-year term
Melissa Lightner, R
• Inspector of Election, four-year term
Louise Devaughn, R
MARION CENTER BOROUGH
• Mayor, four-year term
• Member of council, four-year term
• Member of council, two-year term
Jerry V. Snyder, R
• Tax collector, four-year term
Sharon I. Ackerson, R
• Judge of Election, four-year term
James L. Sisitki, R
• Inspector of election, four-year term
Pamela McManus, R
MONTGOMERY TOWNSHIP
• Auditor, six-year term
Diane Ford, D
• Auditor, four-year term
April Boyer, D
• Constable, six-year term
• Supervisor, six-year term
Edward M. Freno, R
• Tax collector, four-year term
Patricia Matko-Goodlin, D/R
• Judge of Election, four-year term
Nancy M. Duck, R
• Inspector of Election, four-year term
Suzanne Globun, D/R
PINE TOWNSHIP
• Auditor, six-year term
• Constable, six-year term
• Supervisor, six-year term
Christopher Cameron, R
• Tax collector, four-year term
Joan C. Stupic, D
• Judge of Election District 1, four-year term
Sharon J. Roles, R
• Judge of Election District 2, four-year term
• Judge of Election District 3, four-year term
Linda Shultz, R
• Inspector of Election District 1, four-year term (1 each party)
Judith K. Hill, D
Judith A. Miller, R
• Inspector of Election District 2, four-year term
• Inspector of Election District 3, four-year term
Joseph Shultz, R
PLUMVILLE BOROUGH
• Mayor, four-year term
• Member of Council, four-year term
• Tax Collector, four-year term
Gary L. McIntire, R
• Judge of Election, four-year term
Joan S. Yagle, R
• Inspector of Election, four-year term
RAYNE TOWNSHIP
• Auditor, six-year term
• Auditor, two-year term
Rachelle A. Winters, R
• Constable, six-year term
• Supervisor, six-year term
Wendi Strittmatter, D
Tyler Keith, R
• Supervisor, two-year term
Wendi Strittmatter, D
Tyler Keith, R
• Tax collector, four-year term
Bobbie Farren, D/R
• Judge of Election, four-year term
Wanda K. Rising, R
• Inspector of Election, four-year term
Donna Mae Ruffner, R
SALTSBURG BOROUGH
• Mayor, four-year term
Karen M. Cumberledge, D
Douglas S. Kull, R
• Member of Council, four-year term (Vote for 4)
John A. Lombardo, D
Terry D. Cumberledge, D
Abraham Kline, D/R
• Tax collector, four-year term
• Judge of Election, four-year term
Bonnie McGregor, D
• Inspector of Election, four-year term (1 each party)
Donna Spallone, D
Robin Jayne Manning, R
SHELOCTA BOROUGH
• Mayor, four-year term
Rita Schreckengost, R
• Member of Council, four-year term
Matthew Schreckengost, R
• Tax collector, four-year term
• Judge of Election, four-year term
Nellie Dunlap, R
• Inspector of Election, four-year term
Patricia McConnell, R
SMICKSBURG BOROUGH
• Auditor, six-year term
• Mayor, four-year term
• Member of Council, four-year term
• Tax collector, four-year term
• Judge of Election, four-year term
• Inspector of Election, four-year term
WASHINGTON TOWNSHIP
• Auditor, six-year term
• Supervisor, six-year term
Timothy R. Marshall, D
Luke Vanhorn, R
Jesse Shotts, I
• Tax collector, four-year term
June E. Thomas, D/R
• Judge of Election, four-year term
Kathie J. Vanhorn, R
• Inspector of Election, four-year term
Bonnie L. Brewer, R
EAST WHEATFIELD TOWNSHIP
• Auditor, six-year term
• Auditor, four-year term
• Auditor, two-year term
• Constable, six-year term
• Supervisor, six-year term
Kenneth A. Umholtz, R
• Tax Collector, four-year term
Tina Bartlebaugh, D
Donna Jean Krall, R
• Judge of Election District 1, four-year term
• Judge of Election District 2, four-year term
• Inspector of Election District 1, four-year term
Rhoda M. Stewart, D
• Inspector of Election District 2, four-year term
Georgette Y. Janicsko, R
WEST WHEATFIELD TOWNSHIP
• Auditor, six-year term
Omar Wagner, R
• Auditor, four-year term
• Constable, six-year term
• Supervisor, six-year term
Jerry Lichtenfels, D
Kevin D. Baird, R
Scott L. Rodkey, I
• Tax collector, four-year term
Debbie Boring, D/R
• Judge of Election District 1, four-year term
Judy Snyder, D
• Judge of Election District 2, four-year term
Denise M. Miljenovich, R
• Inspector of Election District 1, four-year term
Delores Thompson, R
• Inspector of Election District 2, four-year term
Marceda A. Smith, R
WHITE TOWNSHIP
• Auditor, six-year term
• Constable, six-year term
• Supervisor, six-year term (Vote for 2)
Judy Holliday, D
Carolyn Princes, D
Sandra Gillette, R
Gail L. McCauley, R
• Tax collector, four-year term
Jeff Mack, D/R
• Judge of Election 1, four-year term
Hilliary Magas, R
• Judge of Election 2, four-year term
Dianne M. Colley, R
• Judge of Election 3/1, four-year term
Vickie Enciso, D
• Judge of Election 3/2, four-year term
James R. Evans II, R
• Judge of Election 3/3, four-year term
Lynda M. Burner, R
• Judge of Election 4/5, four-year term
Joan Peterman, D
• Judge of Election 6, four-year term
Christine Evans, R
• Inspector of Election 1, four-year term
Marilyn Magas, R
• Inspector of Election 2, four-year term
Lynn Misko, R
• Inspector of Election 3/1, four-year term
Juanita A. Bufalini, D
• Inspector of Election 3/2, four-year term
• Inspector of Election 3/3, four-year term (1 each party)
Paula Borish Daskivich, D
Jenna-Marie Celtnieks, R
• Inspector of Election 4/5, four-year term (1 each party)
Patricia Anne Holmes, D
Margaret Marshall, R
• Inspector of Election 6, four-year term
YOUNG TOWNSHIP
• Auditor, six-year term
• Auditor, four-year term
• Constable, six-year term
• Supervisor, six-year term
Donald L. Maryai, D
James Blair, R
• Tax collector, four-year term
Patty Fairbanks, R
• Judge of Election District 1, four-year term
Teresa Bachy, D
• Judge of Election District 2, four-year term
Brenda Fasenmyer, D
• Judge of Election District 3, four-year term
• Inspector of Election District 1, four-year term
Patti Veshinfsky, D
• Inspector of Election District 2, four-year term
Lynda Michele Penrose, D
• Inspector of Election District 3, four-year term
Who's on your ballot for municipal races | News Source link Who's on your ballot for municipal races | News