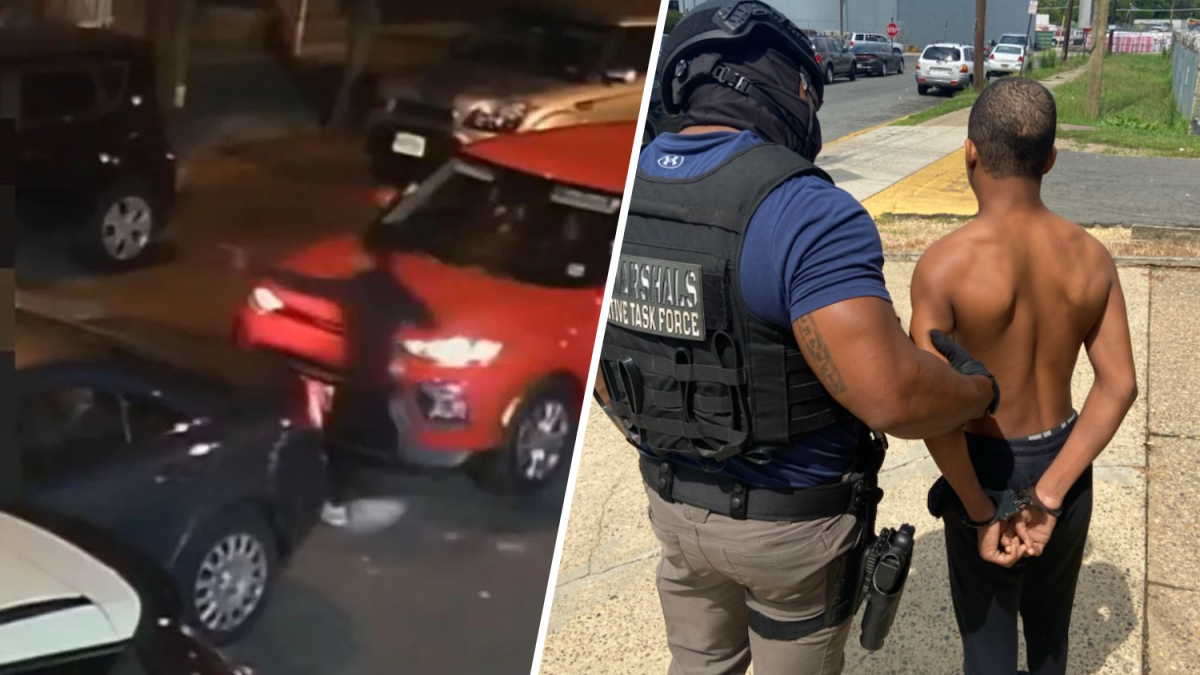 U.S. Marshals arrested a teen accused of shooting and killing a man during an attempted carjacking in South Philadelphia last month.
The 15-year-old boy was taken into custody by the New York/New Jersey Regional Fugitive Task Force and U.S. Marshals in Camden, New Jersey, on Monday.
The teen was wanted for the murder of 50-year-old Michael Salerno.
The deadly incident took place along Porter Street, near South 12th Street, in the Lower Moyamensing neighborhood around 10:45 p.m. on July 12, Philadelphia police said. Jackeline Ortiz, a resident in the area, told NBC10 she heard gunshots and the sound of a woman screaming.
"There was a woman running away," Ortiz said. "All I saw outside of the car was a man. He was laying on the ground."
Ortiz and other residents then called 911.
"Slowly there started to form a pool of blood and a lady was screaming," she said. "When she came back she was screaming over the man on the ground. I didn't know what was happening."
Responding police officers found Salerno on the ground next to his car, which was double parked, "bleeding heavily" from a gunshot wound to his head, Philadelphia Police Chief Inspector Scott Small said. Medics pronounced Salerno dead a short time later.
"I feel bad for him," Ortiz said. "He just tried to do what he could do."
A bullet casing was found inches from the man's body.
"It appears that the shooter or shooters were standing very, very close to this 50-year-old victim when the shot was fired," Small said.
Philadelphia Police Homicide Lt. Hamilton Marshmond said that three people — all believed to be young males as young as their early teens — were involved in the deadly carjacking attempt. Based off of surveillance video, it appeared the suspects drove around the street several times looking for someone to rob or carjack prior to the shooting.
The suspects fled in a Red SUV — possibly a Kia Soul with an out-of-state license plate — that traveled on Porter Street, according to investigators.
Police said Salerno was not in the Pontiac sedan at the time of the shooting. He, however, owns the car, which was being used by a woman who investigators called a friend. Police haven't revealed many details about the woman, only saying she was a witness who they interviewed. She was not hurt during the incident.
Salerno lived just a few blocks from where he was gunned down, Small said. A family friend told NBC10 Salerno had lost his fiancée to cancer earlier in the year.
"We as a society can no longer accept the actions of individuals who prey on this city," Marshmond said. "We can no longer make excuses for criminals that continue to break the laws and kill members of our society."
While the 15-year-old boy is in custody, police have not yet revealed if they are still searching for two additional suspects in Salerno's murder. A $20,000 reward was offered for information leading to an arrest in the shooting.
https://www.nbcphiladelphia.com/news/local/police-arrest-teen-accused-of-killing-man-during-attempted-carjacking-in-south-philly/3619990/ U.S. Marshals arrest teen accused of killing Michael Salerno during attempted carjacking in South Philly – NBC10 Philadelphia