Pennsylvania
The Texas family lost their father on COVID-19 three weeks ago.They lost their home in a fire while trying to stay warm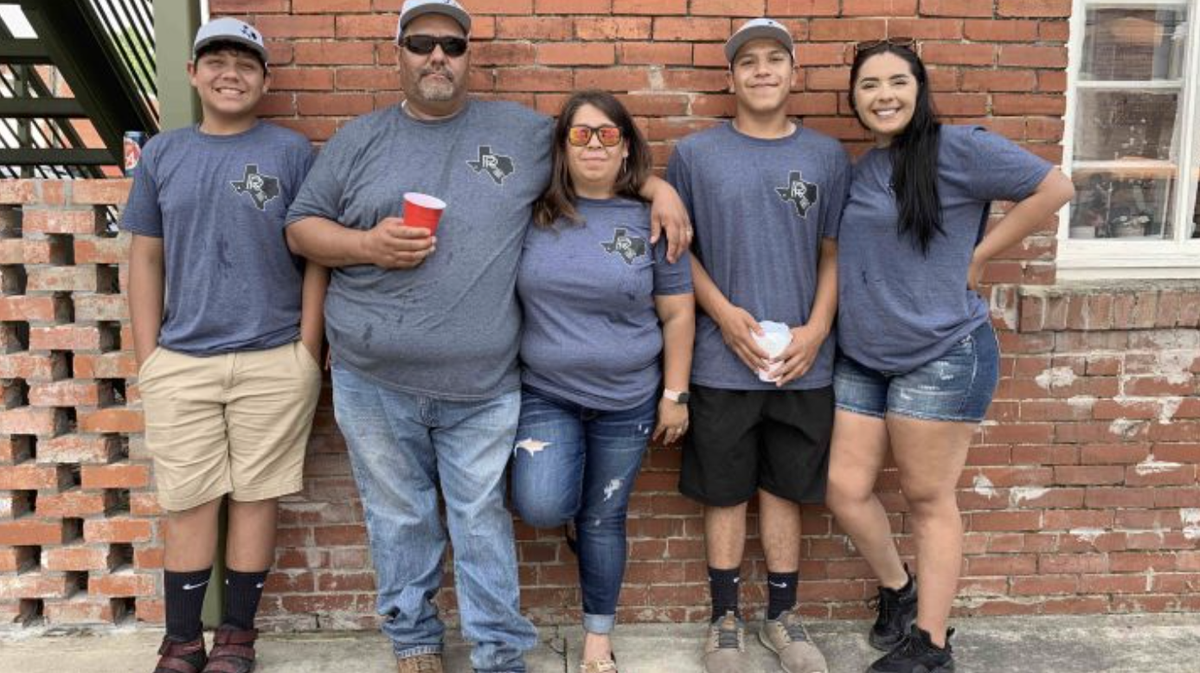 Stephanie Rubio and her three children were converted twice every three weeks. Stephanie's husband, Robert, died of complications from COVID-19 after spending eight days in the hospital on January 28. On Tuesday, his memories broke out while his family lost their home and tried to stay warm in Texas. This week, winter storms and sub-zero temperatures have caused turmoil and turmoil throughout the state, forcing thousands of families, including the Rubios, to live without electricity, heat and water. The family lives in Fort Davis, Texas, about 150 miles east of Odessa. Stephanie and her children rely on firewood to fuel the fireplace because it hasn't been powered since around 4am on Monday. But by Tuesday afternoon they were barely out. Stephanie and her youngest, Levi, 15, bravely confronted the road conditions and went to the corner shop to pick up firewood. From the store's parking lot, Stephanie said he could see a cloud of smoke in the distance and pointed it out to Levi. A friend called me and said it was their house that caught fire. At home, Stephanie's eldest son, Alison, 22, was taking a nap, and Blake, 16, warned of an increase in smoke. We went that far to our house and it was already covered in smoke, "said Stephanie. According to Stephanie, "My daughter ran out of the dad's photo she received from the funeral home without any shoes." The fire department has not yet identified the official cause of the fire, although + CiAgICAgICAgICAgICAgICAgICAgICAgPC9zY3JpcHQ + They never said goodbye Stephanie said she and Robert built a house in Fort Davis and filled it with love and affectionate memories during a 20-year relationship in January COVID-19 test to return to face-to-face learning. At that time, Levi tested positive and stayed at home for two weeks. Immediately after Levi's positive test, Blake and Robert were also infected with the virus. "We were all at home and the kids were isolated in their room, but it's difficult when you're all at home," Stephanie said. "Robert was the last person to get a COVID from our house, and he couldn't take it … he had a part of COVID pneumonia." "We always I wore a mask and kept the hand sanitizer with us. What to do. " "That's just what happened and we can't get it back." Stephanie took Robert to the hospital on January 19, staff admitted him, and he monitored his oxygen levels. I told her that she was likely to be kept all night because of this. I knew it, they were flying him to another hospital in Midland, Texas, and he had a really terrible night and he passed by that Thursday, "said Stephanie. "His heart couldn't accept it and he was suffering from heart failure," Robert said, who also had borderline diabetes. "He kept telling us,'I'm fine, I'm fine,' but we were worried," Stephanie said. "The last thing he said was,'This, this,' I kept saying,'OK, you're this,' but he never came back." Robert said the Dallas Cowboys. I was a big fan of Dallas and enjoyed it. "He was just a loving person and a wonderful person," Stephanie said. "The smile on his face … oh, the smile on his face was ridiculously big." Robert found it very difficult for him to communicate verbally because he was drinking oxygen. Stephanie said on the last day that he had a bad cough and was holding his breath, so he exchanged text messages instead. "We are a strong family and we are fine," Stephanie said. "Well, we were fine, and of course the fire just broke out on Tuesday, which broke our hearts again. You know, we are with him all our memories. I lost the house I had. "Thank you for picking up the piece. Stephanie said the family is moving forward with the support of the community and nearby family and friends. The Rubios are staying in a vacant three-bedroom apartment owned by a nearby community member. Electricity was restored at the house on Wednesday afternoon. Robert's cousin Vanessa Kinkade created GoFundMe to help families take steps to rebuild their lives. "I loved everyone so much, especially my wife and children," Robert said on Twitter. "I'm asking for donations to get back what this family has lost," she wrote. "Husbands and fathers cannot be regained, but we can all try to regain joy in their hearts."
Stephanie Rubio and her three children lost love twice every three weeks.
Stephanie's husband, Robert, died of a complication of COVID-19 on January 28, after spending eight days in the hospital.
On Tuesday, the family lost their memory-filled home in a fire while trying to stay warm in Texas.
This week, winter storms and sub-zero temperatures are causing turmoil and turmoil throughout the state, forcing thousands of families, including the Rubios, to live without electricity, heat and water.
The family lives in Fort Davis, Texas, about 150 miles east of Odessa.They have been out of power since around 4am on Monday
Stephanie and her children have relied on firewood to fuel their fireplaces to stay warm. But by Tuesday afternoon they were barely out. Stephanie and her youngest, Levi, 15, bravely confronted the road conditions and went to the corner shop to pick up firewood.
Stephanie said he could see a cloud of smoke in the distance from the store's parking lot and pointed out to Levi, who had just received a call from a friend, that it was his house that caught fire.
At home, when Stephanie's eldest son, Alison, 22, was taking a nap, Blake, 16, warned her that the smoke was getting louder.
"We hurried there and went home, and it was already covered in smoke," Stephanie said. "My daughter ran out of the picture of her dad we brought from the funeral home, without any shoes."
According to Stephanie, the fire department has not yet identified the official cause of the fire, but they consider the house a total loss.
They couldn't say goodbye
Stephanie said she and Robert built a house in Fort Davis and filled it with love and affectionate memories in a 20-year relationship.
Stephanie's high school children had to take the COVID-19 test to return to face-to-face learning in January. At that time, Levi tested positive and stayed at home for two weeks. Immediately after Levi's positive test, Blake and Robert were also infected with the virus.
"We were all at home and the kids were isolated in their room, but that's difficult when you're all at home," Stephanie said. "Robert was the last person to get a COVID from our house, and he couldn't take it … he had a piece of COVID pneumonia."
"We always wore masks and carried hand sanitizers. We did everything we had to do," she said. "It just happened and we can't get it back."
Stephanie took Robert to the hospital on January 19, staff admitted him, and told her that he was likely kept all night to monitor oxygen levels.
"Before I knew it, they were flying him to another hospital in Midland, Texas, and he had a really terrible night, and that Thursday he passed by," Stephanie said. "His heart couldn't accept it and he suffered from heart failure."
Robert was also a borderline diabetics, she said.
"He kept telling us,'I'm fine, I'm fine,' but we were worried," Stephanie said. "The last thing he said was,'I got this, I got this.' I kept saying,'OK, you got this.' But he never came back. "
Robert was a big fan of the Dallas Cowboys and enjoyed volunteering for youth baseball and basketball.
"He was just a loving person, a wonderful person," Stephanie said. "The smile on his face … oh, the smile on his face was tremendous."
Because Robert was taking oxygen, verbal communication turned out to be very difficult for him. Stephanie said on the last day that he was coughing so badly that he was holding his breath and would exchange text messages instead.
"We are a strong family and we are doing good things," Stephanie said. "Well, we were fine, and of course the fire just broke out on Tuesday, which broke our hearts again. You know, we are with him all our memories. I lost the house I had. "
Pick up a piece
Stephanie said her family is moving forward thanks to the support of the community and nearby family and friends.
The Rubios are staying in a vacant three-bedroom apartment owned by a nearby community member. Electricity was restored at the house on Wednesday afternoon.
Robert's cousin Vanessa Kinkade GoFundMe To help families take steps to rebuild their lives. She said on Twitter that Robert "loved everyone hard, especially his wife and children."
"I'm asking for donations to help this family get back a small amount of what they lost." She wrote.. "Husbands and fathers cannot be regained, but we can all try to regain joy in their hearts."


The Texas family lost their father on COVID-19 three weeks ago.They lost their home in a fire while trying to stay warm
Source link The Texas family lost their father on COVID-19 three weeks ago.They lost their home in a fire while trying to stay warm