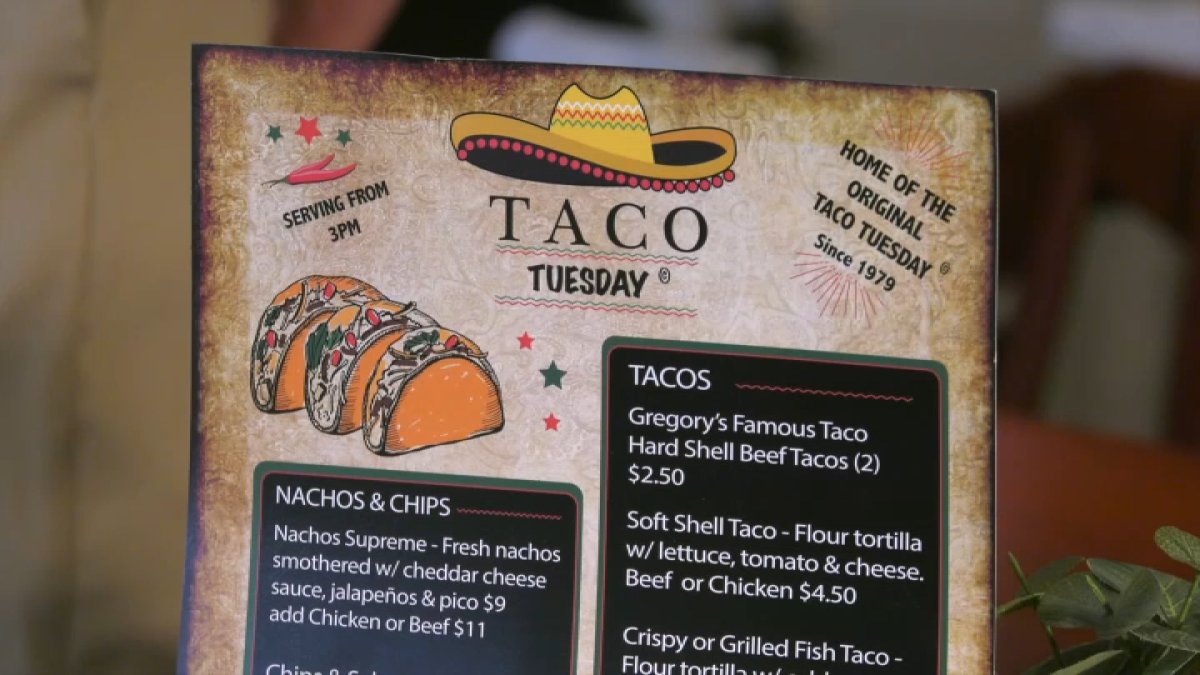 Gregory's Bar and Restaurant in Somers Point, New Jersey, is daring Taco Bell to join them on September 12th for their Taco Tuesday Giveaway.
"It has come to our attention that there might be some confusion regarding Taco Bell's decision not to offer free tacos in New Jersey. We want to make it clear that we are not involved in Taco Bell's choices, and the decision to not offer free tacos in New Jersey lies solely with Taco Bell," The restaurant said in a statement.
This comes after Taco Bell announced it will be giving customers free Doritos Locos Tacos every Tuesday between now and September 5.
Gregory trademarked the term "Taco Tuesday" in 1982. In 1989, Taco John's, a Wyoming-based restaurant chain, won the rights to "Taco Tuesday" in every state except for New Jersey. 
"It's not that we're going to expand across the country," Gregory said. "We're worried about the business we have here."
While "Taco Tuesday" has become a well-known phrase often used at restaurants and elsewhere, Taco John's has worked hard to defend its more than 40-year-old trademark of the term in the 49 states besides New Jersey. The fast food chain sent many cease-and-desist orders over the years to anyone besides Gregory's Restaurant & Bar that dared to have a "Taco Tuesday" promotion.
In 2019, the company went so far as to send a letter to a small brewery just five blocks from its corporate headquarters, warning it to stop using "Taco Tuesday" to promote a taco truck parked outside on Tuesdays.
Even NBA star LeBron James – whose Taco Tuesday celebrations became a viral sensation on social media – got in on the action that year, filing unsuccessfully for his own "Taco Tuesday" trademark.
James later collaborated with Taco Bell in a commercial pushing for an end to the copyright. 
The disputes culminated with Taco Bell filing with U.S. trademark regulators this May to get Taco John's and Gregory's Restaurant & Bar to abandon their trademarks, saying the term had become too widely used to belong to any one person or business.
Taco John's surrendered its claim to "Taco Tuesday" and allowed Taco Bell to use the phrase in 49 states, with New Jersey being the notable exception.
Gregory now stands alone in the "Taco Tuesday" battle. 
"We're gonna try and play this out and hopefully Taco Bell will understand that look, I'm a little guy, I just want to make a living," Gregory said. 
Stephen Altamuro, an attorney representing Gregory's restaurant, also told NBC News they would continue the fight. 
"Gregory's has had the rights to the phrase 'Taco Tuesday' for more than 40 years," he said. "We're a small company taking on a huge company and certainly we're the underdog here but we're gonna do our best."
A spokesperson for Taco Bell didn't address Gregory's trademark but said, in part, that Taco John's recent decision to give up the phrase is a "shared victory with Taco allies everywhere." 
Gregory's customers, meanwhile, believe he's the rightful owner. 
"He was the first one, when nobody did it," Frank Steever told NBC10. "So I think he deserves to have it." 
Despite his frustration with the recent developments, Gregory also acknowledged the publicity his fight with Taco Bell has generated for his business. 
"We have gotten a lot of customers that were new because they saw it," he said. 
Gregory also knows a long legal battle with Taco Bell could be very expensive. 
"I can't take this too far," he said. 
For now, however, he continues to put up a shell of a fight in his ongoing beef with Taco Bell.
https://www.nbcphiladelphia.com/news/local/nj-bar-dares-taco-bell-to-experience-their-version-of-taco-tuesday/3628182/ NJ bar owner continues legal beef with Taco Bell over 'Taco Tuesday' trademark – NBC10 Philadelphia