Pennsylvania
Maine artist turns used lobster rope into amazing art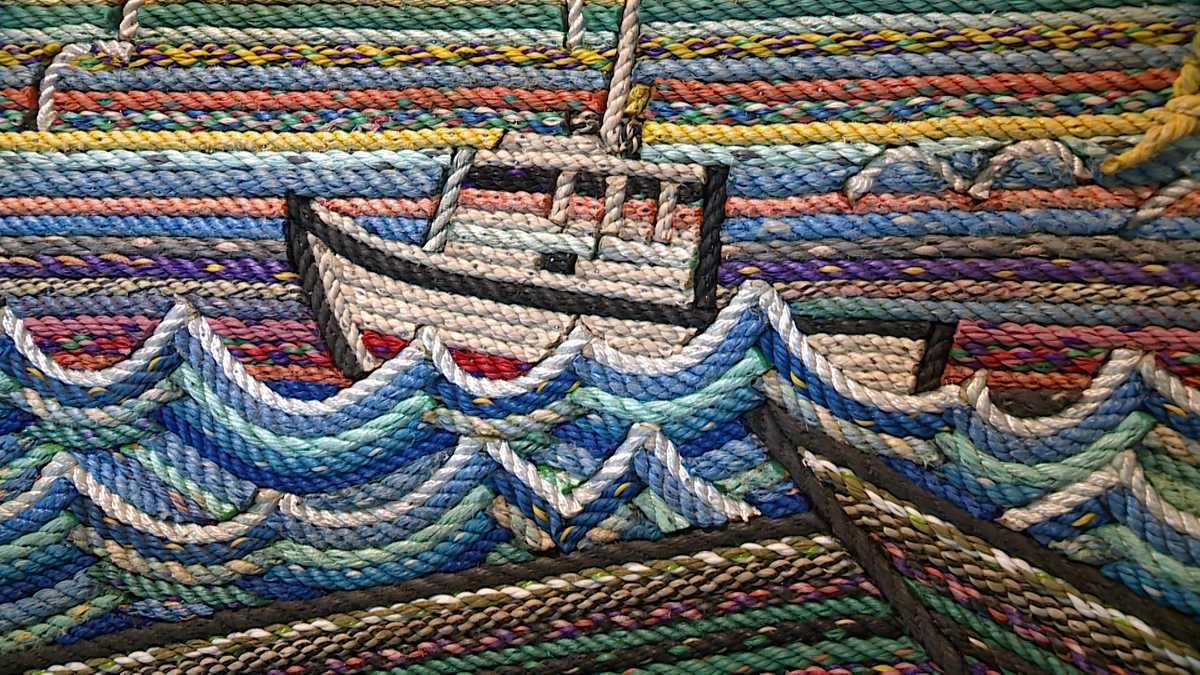 An artist from Maine is creating colorful wall hangings and sculptures, using recycled rope once used as lobster gear.Eric Darling says his mission is to keep as much rope out of landfills as he can while giving that rope new life in a way people can appreciate."I'm doing something that's helping out the environment as well as it's a gorgeous medium to work with," said Darling.The rope is known as pot warp and Darling says he literally stumbled upon it as an artistic medium."I was walking on the shore, picking up all the rope that was drifting along and I had a pile of it," he said. "I just thought that maybe I could use this rope and adhere them to the wood. It sparked the whole process."Darling now collects rope from lobstermen and scavenges it from the local transfer station and uses it to create multi-colored sceneries and landscapes. He calls them his "drift rope project.""The colors are vibrant and the colors lend themselves with almost painting by rope," said Darling. "The used rope has this timeless quality to it."He says he never works with new rope. Instead, he has found that the best colors, the best feel and the most versatile rope is the old stuff that has been around the bay a few times."I mean you really can see the contrast of new rope versus the old, handled rope that's been underwater and handled by lobstermen, just been in the weather," he said. "I've been doing a lot of nautical-themed work just the nature of the rope and the area."Darlins says he is surprised by the success he has found in creating this vibrant art that represents the Maine coast.He's been an artist for 30 years, but in his earlier days, he painted mostly with oils and mostly black and white scenes. Now, he has a newfound enthusiasm for color and the environment that surrounds him."Living in Maine, it definitely had an impact on the way I view my work," he said.He says he is proud to make a difference and keep rope out of the landfill. "I feel like it's art with a mission."
An artist from Maine is creating colorful wall hangings and sculptures, using recycled rope once used as lobster gear.
Eric Darling says his mission is to keep as much rope out of landfills as he can while giving that rope new life in a way people can appreciate.
"I'm doing something that's helping out the environment as well as it's a gorgeous medium to work with," said Darling.
The rope is known as pot warp and Darling says he literally stumbled upon it as an artistic medium.
"I was walking on the shore, picking up all the rope that was drifting along and I had a pile of it," he said. "I just thought that maybe I could use this rope and adhere them to the wood. It sparked the whole process."
Darling now collects rope from lobstermen and scavenges it from the local transfer station and uses it to create multi-colored sceneries and landscapes. He calls them his "drift rope project."
"The colors are vibrant and the colors lend themselves with almost painting by rope," said Darling. "The used rope has this timeless quality to it."
He says he never works with new rope. Instead, he has found that the best colors, the best feel and the most versatile rope is the old stuff that has been around the bay a few times.
"I mean you really can see the contrast of new rope versus the old, handled rope that's been underwater and handled by lobstermen, just been in the weather," he said. "I've been doing a lot of nautical-themed work just the nature of the rope and the area."
Darlins says he is surprised by the success he has found in creating this vibrant art that represents the Maine coast.
He's been an artist for 30 years, but in his earlier days, he painted mostly with oils and mostly black and white scenes. Now, he has a newfound enthusiasm for color and the environment that surrounds him.
"Living in Maine, it definitely had an impact on the way I view my work," he said.
He says he is proud to make a difference and keep rope out of the landfill. "I feel like it's art with a mission."
https://www.wgal.com/article/art-mission-maine-artist-used-lobster-rope-amazing-art/44915281 Maine artist turns used lobster rope into amazing art