Business
KDKA-TV Turkey Foundation – CBS Pittsburgh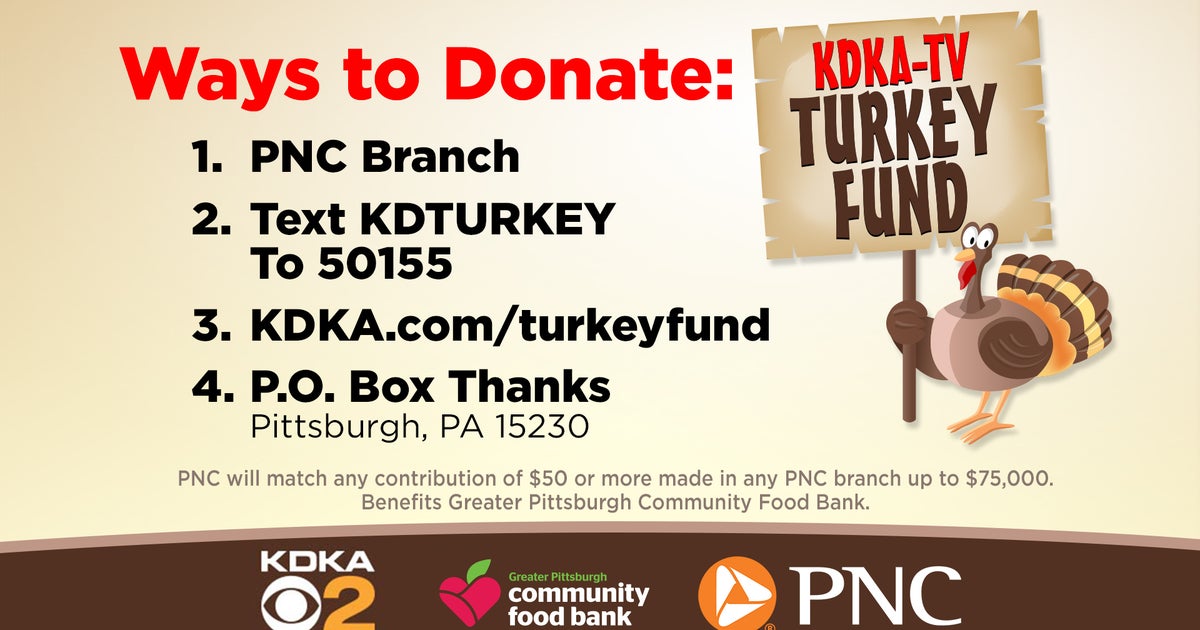 KDKA-TV Turkey Foundation is affiliated with PNC Bank and Greater Pittsburgh Community Food Bank.
With the help of generous people in our community, the KDKA-TV Turkey Foundation has been providing Thanksgiving dinners to neighbors in need for the past 41 years! This year the demand is higher than ever!
KDKA-TV Turkey Foundation has provided holiday meals to over one million families. For just $20, struggling families can get a way to get together and share a meal with their loved ones.
PNC will continue to support KDKA-TV Turkey Fund through collections at all PNC branches. Any donation of $50 or more made at a branch will be matched by the PNC up to $75,000. All funds raised will be distributed across KDKA-TV viewing areas in partnership with the Greater Pittsburgh Community Food Bank and its network of distributors, partners and programs.
By donating to the KDKA-TV Turkey Fund, you can ensure enough food for this holiday season.
There are 4 ways to give!
Bring Your Donation to a PNC Chapter
Send KDTURKEY to 50155
Check email at: KDKA Turkish Foundation | PO Box Thank you | Pittsburgh PA 15230
to donate click here Make a donation on the food bank website.
Need help with meals? Call Southwest Pennsylvania 211! Dial 211 from Phone or Visit. 211.org Access help online.
Does your organization, school, or class want to do a fundraiser?
Donating is as easy as pie!
Enjoy a special Thanksgiving-themed recipe from Team PTL.
KDKA-TV Turkey Foundation – CBS Pittsburgh
Source link KDKA-TV Turkey Foundation – CBS Pittsburgh