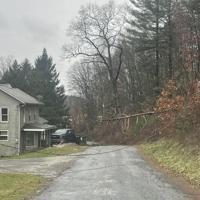 Hundreds of Penelec and REA customers lost power Wednesday afternoon after winds of up to 49 miles per hour blew through Indiana and neighboring counties.
The largest reported outage in that series of problems affected 1,422 REA customers in and around Carrolltown, Cumbria County. The REA also reported 365 people affected between Penrun and Yellow Creek State Park, and 242 people in the Brush Valley area south of the park.
It's also where Penelec had its biggest problems during the midday storm, affecting 749 climbers, 399 in Cherry Hill Township and 384 in Green Township. .
The Indiana County Emergency Management Department said volunteer firefighters in Pine Township and Nicktown were called after power lines went down along Route 553 in Pine Township at 11:56 a.m.
Half an hour later, the Brigadier Volunteer Fire Department was dispatched to deal with utility lines along Musser Street in Green Township, shortly after ICEMA sent Clyde and Armagh/East Wheatfield Volunteer Firefighters to West Wheatfield Township. Dispatched to a utility line along Cole Road.
There were also problems in the north, where a tree fell along Rockvale Road in Banks Township at 12:15 pm, requiring ICEMA to dispatch the Big Run Area Volunteer Fire Brigade across the Jefferson County line.
Power outages have also been reported sporadically in nearby areas, with the largest reported to FirstEnergy being 162 customers affected by two power outages in Kitaning Township and a loss of service in Cowanshannock Township. There were 110 customers not served, 88 customers in Plum Creek Township and 50 in South Bend Township. 284 in Armstrong County, and in the Ligonier Borough and Ligonier Townships of Westmoreland County;
At White Township's Jimmy Stewart, Indiana Airport, winds picked up just before 11:00 a.m., reported 49 mph gusts at 11:35 a.m., and gusts remained above 30 mph for several hours. did.
Coincidentally, FirstEnergy subsidiary Penelec announced Wednesday that it has completed inspection and maintenance of the equipment to keep it powered to keep customers safe and comfortable in the coming chilly weather.
Scott Wyman, president of FirstEnergy's Pennsylvania operations, which includes Penelec and West Penn Power, said:
"Proactive efforts to protect power infrastructure and prepare commercial vehicles and personnel will help us meet the challenges posed by subzero temperatures, storms and blizzards," Wyman said.
According to Penelec spokesperson Todd Meyers, substation electricians use "thermovision" cameras to inspect critical components. This camera captures thermal images of your equipment to detect potential problems that are not visible during a normal visual inspection. Thermal images show heat on a color scale, with bright colors or "hot spots" indicating loose connections, corrosion, or other problems that need repair.
Power company employees can proactively repair substation equipment to prevent power outages while customers turn up heaters to combat the cold.
Some large substations have buildings that house remote-controlled equipment that must be in a climate-controlled environment to function properly, Myers said. Crews winterize these control buildings and make sure the heating systems are ready for the season.
Helicopter inspections have also been completed, including approximately 2,500 miles of power lines on the Penelec footprint. The inspection is designed to look for broken wires, broken crossarms, and other hardware problems that aren't visible from the ground.
Erie-based Penelek also said tree contractors have cut about 3,800 miles of power lines this year and plan to complete clearing a total of more than 4,300 miles by the end of 2022.
According to Myers, FirstEnergy customers can visit FirstEnergy's 24/7 power center at www.firstenergy for tips on how to prepare for inclement weather and when storms cause power outages. You can check the latest information about recovery when corp.com/outages.
The winter storm season is also accompanied by frigid temperatures and rising energy costs.
It provides a comfortable home while reducing electricity bills during the cold season. FirstEnergy provided these tips:
• Set the thermostat as low as you can comfortably. When a customer lowers the temperature of his home by 1 degree, he reduces energy use by about 3% in the winter.
• Seal leaks around window and door frames with caulking or weatherstripping to prevent cold air from entering your home.
• Close the fireplace damper when not in use to keep the cold out.
• Close the curtains at night. During the day, open only those that are exposed to direct sunlight.
• Use a programmable thermostat or smart thermostat to keep the temperature low when no one is home and warm it up before you get home.
• Check furnace fan filter. A clogged filter makes your heating system work harder than it needs to, wasting energy and money.
FirstEnergy also suggested that consumers should make sure their homes are properly insulated.
Meyers said customers of Penelec and West Penn Power who need to pay their electricity bills have access to payment arrangements and assistance programs. For more information, see: www.firstenergycorp.com/billassist.
https://www.indianagazette.com/news/hundreds-are-briefly-in-the-dark-amid-high-winds/article_0204416d-4073-5953-b790-c06ee6b81f80.html Hundreds of people are temporarily in darkness due to high winds.news