Pennsylvania
Freedom from Desire: Montgomery is home to Norman Rockwell's four Freedoms posters | Art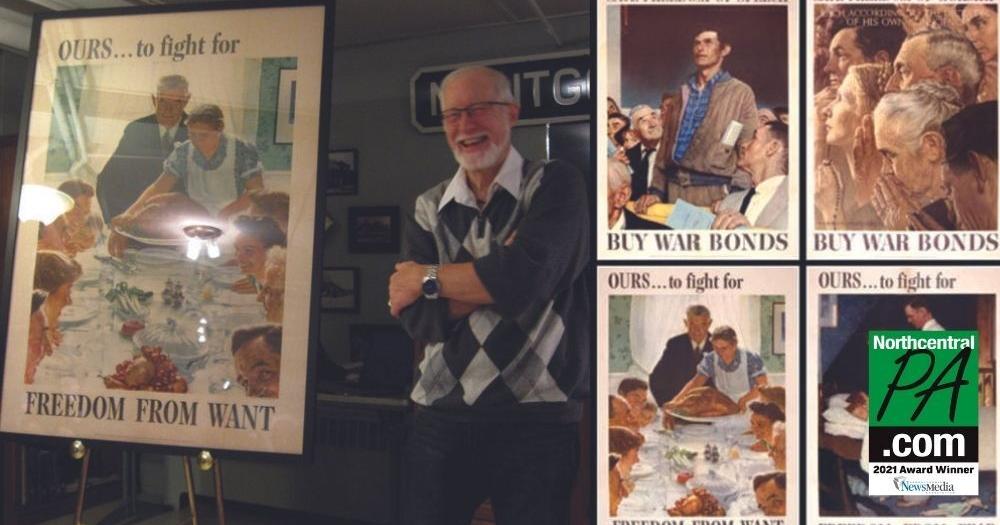 Montgomery, PA – After years of recent acquisitions, the Montgomery Regional History Association now houses only two museums in the country that house a complete collection of Norman Rockwell's four Freedoms posters. There is one.
The final poster collected is Rockwell's "Freedom from Nothing" poster. This poster depicts an elderly woman and a man with a cooked turkey watching. The table is set up for a large family dinner, with each person smiling and waiting for a meal. It is considered one of Rockwell's best works.
According to Larry Stout, Vice President of the Montgomery Regional History Association, "Freedom from Freedom" completes Rockwell's set of "Four Freedoms." Adams Room downstairs in the Montgomery Library.
At a conference on Thursday night, Stout explained the history of posters and how they got them to complete their collection.
4 freedoms
According to Stout, the period from 1929 to 1941 was a very "dark and very sad time for the United States" due to the Great Depression and the full-scale World War II. As the war intensified, President Franklin Roosevelt delivered a 1941 presidential speech. Stout said this is an FDR method for encouraging British citizens. At that time, Britain was the only country opposed to Nazi Germany.
"We look forward to a world based on four essential human freedoms," Roosevelt said. "The first is freedom of speech and expression. It's everywhere in the world. The second is the freedom of everyone to worship God in their own way, everywhere in the world. The third. Freedom of desire … Fourth is freedom of fear. "
This became known as the four freedom speeches. Stout showed an artist's slide depicting their expression, but Rockwell wanted to do something more.
Rockwell was born in 1894 and planned to produce "more than 4,000 original works in his lifetime." "He was asked to explain more than 40 books and draw portraits of President Eisenhower, President Kennedy, President Johnson, and President Nixon."
"Rockwell was best known for his Saturday Evening Post cover," Stout said. "The first work was created in 1916 and lasts until 1963. A total of 321 cover paintings."
However, Stout said Rockwell ran into a creative deadlock.
"The artist struggled with the best way to visualize abstract concepts. (Rockwell said)'I juggled the" four freedoms "in my head, and the text here, there. I read the text and tried to find a photo, but it was very exaggerated. For some reason, I couldn't bother about it, "Stout said.
Rockwell then remembered a neighbor of his name Jim Egerton speaking at a town meeting. It wasn't popular.
"(But) they gave him a say. No one yelled at him. I thought — that's it!" Rockwell said. He then began to come up with ideas and decided to head to Washington, DC to visit the Office of War Information (OWI).
Find a publisher
"The goal is to make the illustration a patriotic poster and sell it to raise money for the war," Stout said. However, the "poster clerk" was not interested and sent Rockwell on the way.
On his way back to Vermont, Rockwell stopped in Philadelphia to visit Ben Hibbs, the editor of the Saturday Evening Post. The artist and Hibs talked and he mentioned a failed Washington excursion and presented his ideas.
Continue reading With a pulse


Freedom from Desire: Montgomery is home to Norman Rockwell's four Freedoms posters | Art
Source link Freedom from Desire: Montgomery is home to Norman Rockwell's four Freedoms posters | Art