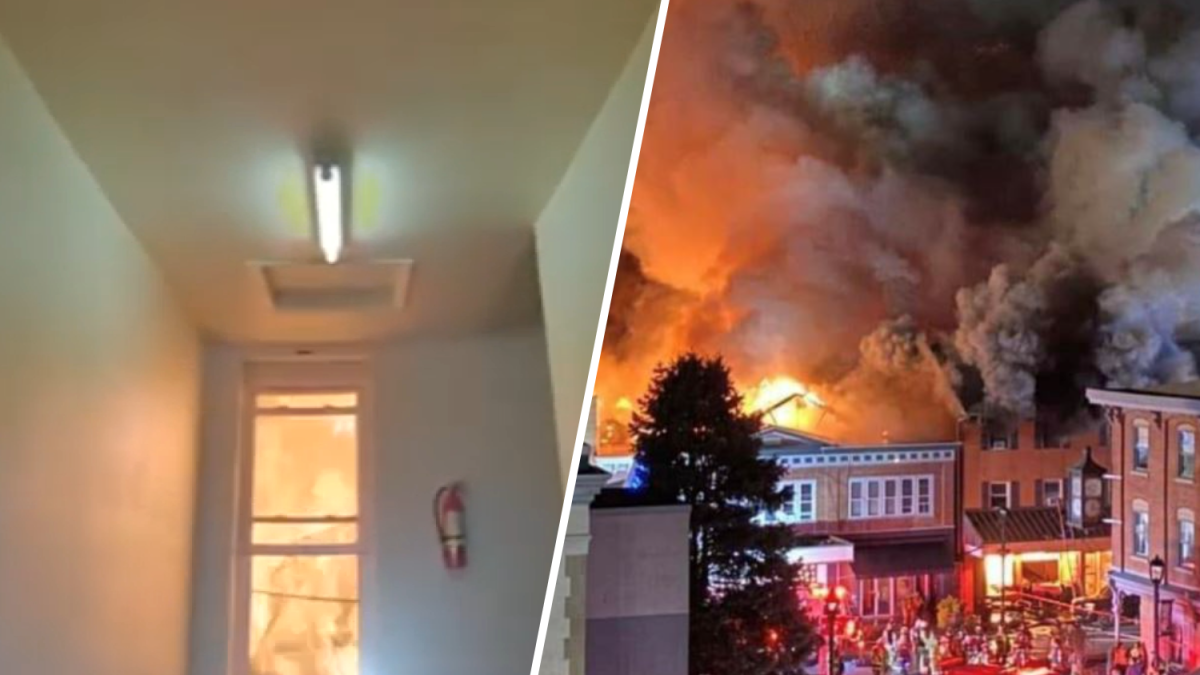 Body camera footage shows a police officer moving through a burning apartment complex and warning residents as a massive fire spread through buildings in Chester County.
The flames broke out late Wednesday night around 11:30 in some apartments along South Third Street, near East Locust Street in the heart of downtown Oxford, Pennsylvania, authorities said.
Oxford Police Officer Scott Richards and his partner, Officer Karlianna Eller, were among the first responders who arrived at one of the burning buildings.
"Pretty much everybody was sleeping," Officer Eller told NBC10. "We were banging on doors as hard as we could. Any door that was open we went in because at that point, you have to."
Andrea Sydenstricker was among the sleeping apartment residents when the fire began.
"I was dead asleep and I heard banging and screaming and I ran to the door and the cops said the building was on fire and to get out," she said.
On Friday, police released about 30 seconds of body camera video from Officer Richards as he and Officer Eller moved through the burning apartment complex and warned residents.
"Out! Out! Go! Go! Go," Officer Richards shouts to residents.
At one point, the video shows flames behind a window.
The fire quickly spread to neighboring buildings and businesses and the response hit four alarms as thick smoke and flames could be seen coming from the structures early Thursday morning.
"There was one girl, I went in her house and her bed had caught on fire while she was in bed asleep and she didn't have any clothes on or anything because she was sleeping," Officer Eller said.
Oxford Borough police urged people to "avoid the area of S Third St from Market St to Hodgson St.," while crews battled the flames.
The Oxford Area School District closed all schools Thursday "due to a large scale fire in the Oxford Borough this morning."
The damaged buildings continued to smolder late Thursday morning.
Around 90 people living in more than two dozen apartment units were left without homes.
The American Red Cross Southeastern Pennsylvania Region said it opened a shelter at Penn's Grove Middle School.
"At the shelter, we're providing individuals and families with comfort and care, including a safe place to sleep, meals, snacks and water, personal hygiene items and emotional support," spokesperson Alana Mauger said. "All those displaced by the fire are welcome."
Many businesses were also destroyed in Oxford's historic downtown section.
"Knowing that it's never going to look the same is sad," Officer Eller said. "There's a lot of history and a lot of emotional attachment to these buildings."
Oxford business owners vowed to rebuild.
"It will be a long haul. It will have an impact, as you can imagine," said Ed Herr, the snack food company owner and president of Oxford Mainstreet Inc. "A lot of people are givers though, so we will come out on top."
Despite the massive devastation, no injuries or deaths were reported, thanks in large part to the quick actions of Officer Eller and Officer Richards.
"It was a crazy experience," Officer Eller said. "But it's beautiful to see how our community comes together to help each other in these situations."
Dozens of families woke up just in time to escape a fire that burned several buildings including their homes late last night in Chester County. The fire broke out early Thursday morning on 3rd street in Oxford. NBC10's Leah Uko spoke to residents about how the fire is devastating their community in many ways.
https://www.nbcphiladelphia.com/news/local/video-shows-officer-warning-residents-during-massive-apartment-fire-in-chester-co/3647229/ Bodycam video shows officer moving through burning apartment fire during massive fire in Oxford, Pennsylvania – NBC10 Philadelphia